Flexible transport, no heavy Lugging
- with our construction lift!
Do you want to make work easier on your construction site?

An aid for safe transport that is gentle on the body and material? Then we have the perfect solution for you with our construction lift Flipper! With the mobile construction crane, components such as doors, windows or drywall panels can be lifted up to 250 kg without any effort.
In addition, the small crane for windows and co. fits into any van and is ready for use within minutes.
Take remedial action now with our innovative Minilift!
Would you like to spare your employees the heavy lugging and thus prevent absences due to illness?
You want a faster distribution of the components on the construction site?
You face the problem that building elements are getting bigger / heavier and staircases are getting smaller at the same time?
The little crane
for doors, windows & more
The decisive advantage of our construction lift is its complete flexibility and independence from the respective construction situation. Whether from the window, flat roof, balcony or scaffolding - the Minilift always works perfectly. This is because, due to the intelligent design, the dead weight of the winches and the longer lever on the back can create a high level of stability. With a supplementary counterweight, components weighing up to 250 kg can be hoisted.
For new construction, you can simply dowel the mobile construction crane to the back or attach it to the scaffolding. In addition, two cable winches prevent the components from twisting and dragging along the wall when being pulled up. So everything remains undamaged!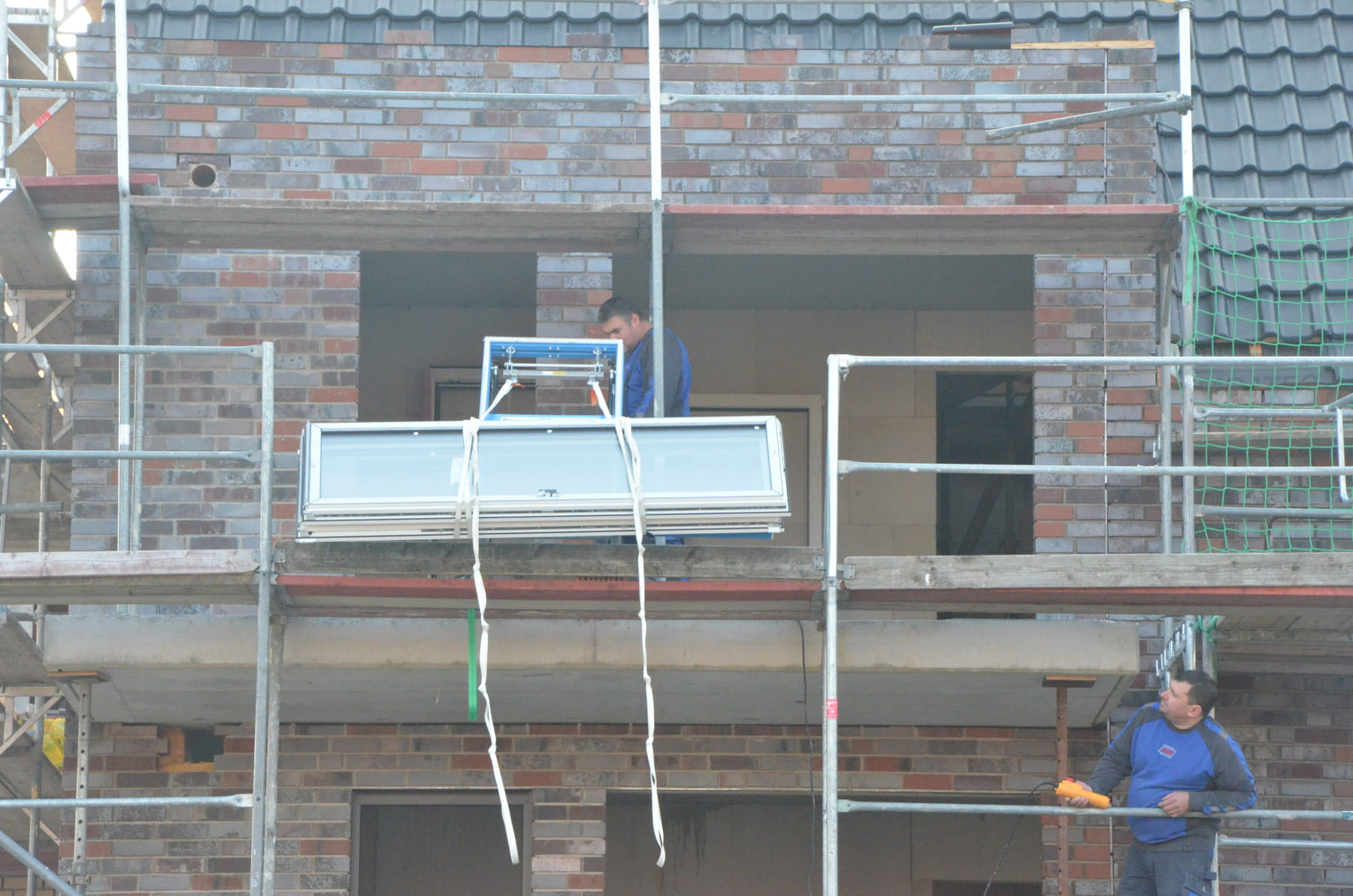 interest aroused?
Watch our videos and learn more about our Minilift!
The excellent innovation
for easier work on the construction
Our small crane for drywall panels and much more is a profitable investment that will quickly pay-off for you. It is not without reason that the developer Alexander Richter was awarded the Münsterland Innovation Prize 2015, among others, for the unique construction method and diverse application possibilities of the construction lift.

The advantages of the Minilift at a glance:
No heavy lugging: you save yourself heavy lugging through narrow staircases, relieve your health and are thus more motivated and energetic!
Fast, efficient work: Ready for use in just five minutes, the Construction Minilift can be used for work on flat roofs, balconies or directly from windows.
Gentle lifting: Due to the innovative, patented construction method, the components are pulled by two traction ropes. This prevents the parts from twisting and dragging uncontrollably on the housewall. Thanks to the intelligent folding mechanism, you can safely transport the goods to the desired floor. Do you have any questions or would you like personal advice? Do not hesitate to contact us. We will be happy to answer your questions!
construction lift flipper 250 kg (large version)
construction lift "Mini-Flipper" (small version)